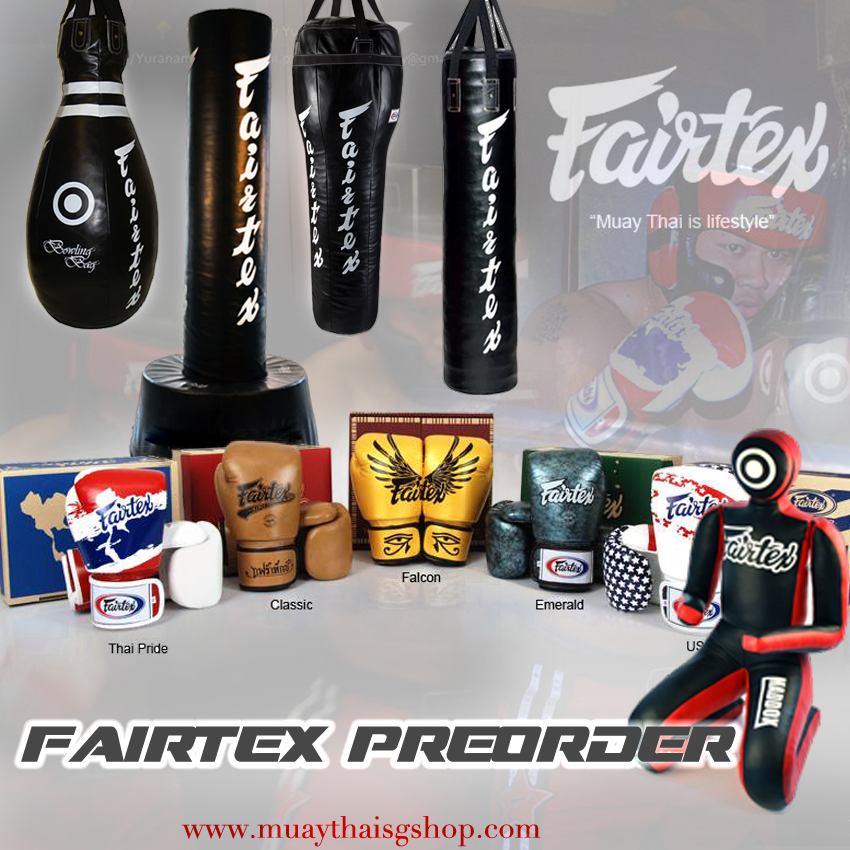 By popular demand, we are holding our Fairtex Pre-order in Singapore again to allow you to order anything as long as it falls under the Fairtex brand !
From Maddox grappling dummy to Fairtex boxing gloves, shinguard, headgear, MMA apparels and even fairtex backpack !
Pre-order Details

4th March – 13th March 2015
Payment has to be completed by 13th March for order to be made. Any late payment will not be entertained.
Pre-order items will take 5-7 weeks to be fulfilled.
Sent your fairtex pre-order to [email protected] if you are unsure of the product model and name. We will reply you with the model and price within 6hours. After you have finalized your order, we will send a payment invoice indicating the payment amount for pre-order confirmation.
Muay Thai Boxing Singapore
Largest Muay Thai Shop in Singapore selling Muay Thai Gears and boxing equipment. Cheap and easy to shop. Boxing Gloves, Shinguards, Handwraps, kickpads from brands such as Fairtex, Twins Special, Top King, Cleto Reyes, Sandee, Everlast and other Muay Thai Boxing brands.
600 West Coast Road
Singapore
,
Phone: 94518206