Product Description
1.SURPRISINGLY LIGHT FEEL
When compared to gloves of the same weight, Winning's boxing gloves feels lighter than any other brand. Even though the gloves are true to weight, users commented that the gloves feel significantly lighter than the other brands with the same weight. The astonishing sense of lightness comes from perfecting the weight distribution of the glove and handcrafting every glove as an individual.

2.SECURE AND COMFORTABLE FIT
The glove's internal ergonomic design contours to the wearer's hand. Just slipping a pair on feels as if the gloves are molded to fit your hands. Winning is soft, straight out the box the glove comes broken in. You can put the gloves on and fully open your hand. The very same day you get them you can go out and spar without worrying about hurting your sparring partner with rock solid padding. No break in period whatsoever for these things.

3.BRINGS OUT YOUR NATURAL PUNCH
The soft inner cushions allow for a natural fist clench, so your punches flow naturally, preventing bad punching habits to take root. It is an indispensable equipment during training and official fights. What's also special about these gloves is that your punching form will be better. The gloves' internal ergonomic design contours the wearer's hands so that they will feel as if they were made specifically for your hands.
4.PADDING/PROTECTION
Winning Boxing Gloves are often referred to as "pillows." It's because they provide unmatched hand protection, wrist support and impact absorption. You can use these for bag work, mitts and sparring for one whole day and you will not feel soreness.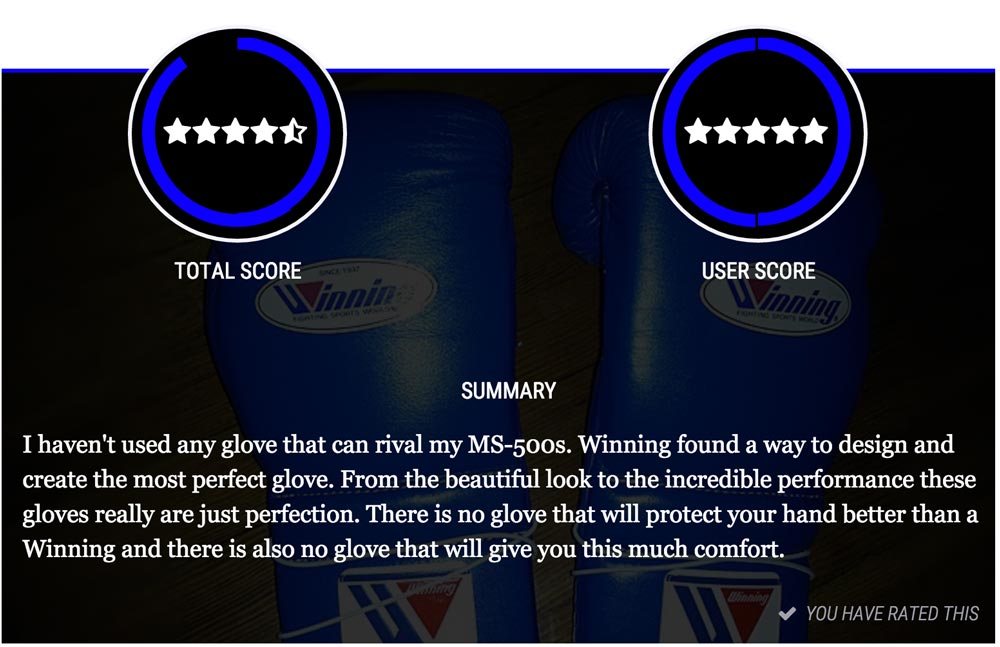 CUSTOMER REVIEWS
UNDISPUTED QUALITY, CLOSE TO PERFECTION
"Really everything about these gloves are a pro. They have the best thumb, high quality leather, they look absolutely beautiful, they have the best multipurpose padding, practically perfect construction, unrivalled protection and performance, and overall they're the most comfortable gloves I've ever used. They really are just ever so close to perfection. Actually if you compare them to other gloves they practically are perfect, no glove comes close in every aspect. Like I've said there is a reason the majority of pros use these during training."
GREAT PROTECTION FOR YOUR HANDS
"my hands were injured months ago and everytime i punch the heavy bag, the sharp pain comes back almost immediately. After I started using the Winning gloves, I dont feel any impact on my injured hand, it absorbs the impact and protects my hands really well. My hands got better, my wrist got better. Most importantly, I still could continue my training despite having an injured hand ! It's just really soft, protective and really worth the money. No comparison to other gloves.